General and Artistic Director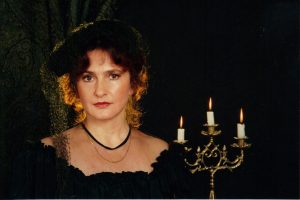 Professor at the Ludwik Solski National Academy of Theatre Arts in Kraków. She lectures at the Acting Department on both specialties (dramatic and vocal-acting) and at the nonresident faculty of the Dance Theater in Bytom (specialty: dance theater actor). She lectures: Visual arts of stage movement, Customs of the past and present, Elementary acting tasks, Fundamentals of acting, Classical scenes, Forms and styles of stage movement.
Actress, choreographer, director, teacher, general and artistic director of the Krakow Chamber Opera. She came from Kraków, where she graduated the Adam Mickiewicz 6th Upper Secondary School. A graduate of the Acting Department of the Ludwik Solski National Academy of Theatre Arts in Kraków. A specialist in the field of the visual scenic movement covering issues related to the forms and styles of stage movement, the history of customs and costume, and in the field of historical court dance.
An actress of Krakow theaters (Teatr Ludowy, Teatr im. Słowackiego). She worked, among others with such directors as: K. Skuszanka, J. Goliński, I. Babel, I. Wollen, R. Zioło, M. Grabowski, D. Baduszkowa, W. Jankowski. Important roles: Klitemnestra in 'Elektra' by J. Giraudaux, Balladyna in 'Balladyna' by J. Słowacki, Aniela in "Śluby panieńskie" by A. Fredro, Marusia in the musical "Four Tank-Men and the Dog", Aldon in "Konrad Wallenrod" by A. Mickiewicz, Celia in "As You Like" by W. Shakespeare, Krasawic in "Bolesław Śmiały" by St. Wyspiański, Death in "Betlejem polskie" by L. Rydel, Wanda in "Romans z wodewilu" by K. Krumłowski, Lyubov in "The Last Ones " by M. Gorki, Rena in "Hipnoza" by A. Cwojdziński, Goplana in "Balladyna" by J. Słowacki, Elmira in Molier's " Tartuffe", Tatiana in " The Festivities" by A. Chekhov, Jerish in " The Little Demon" by F. Sołogub, Generałowa in "Listopad" by H. Rzewuski, Helena in "Brother of Our God" by K. Wojtyła, Bride in "Song of Songs".
Author of over 100 choreographies and stage movement for theater and television performances directed by, among others J. Jarocki, I. Wollen, R. Zioło, W. Jankowski (including the National Theater in Warsaw, Contemporary Theater in Wrocław, theaters in Opole, Bielsko-Biała, Cieszyn, theaters in Krakow, TV Krakow and – in her author's performances).
In 1991 she founded her own music scene, whose repertoire refers to the old tradition and customs based on historical dance, music and singing. She established the Academy of Tradition and Custom, in which are held performances, workshops and seminars. Her author's performances have been presented not only in Krakow and Poland, but also in Paris, Lyon, Frankfurt am Main, Vilnius, both in natural, historical interiors and open air, as well as in theater interiors.
In 2004, the theater expanded its artistic activity and included operatic repertoire and was renamed – its new name is Krakow Chamber Opera. The spectacle which inaugurated the new formula is "Don Pasquale" by G. Donizetti, directed by Wacław Jankowski.
On December 10, 2011, in Krakow Chamber Opera took place a premiere of the most famous comic opera by Giovanni Battista Pergolesi "La serva padrona" directed by Wacław Jankowski. With this premiere the theater has expanded its artistic activitiesfor a new project: Opera Puppet Theater, where, in addition to vocalists, drama actors and dancers, puppets and masks also have a full role in the stage activities.
On November 28, 2009, Vice President of Krakow Tadeusz Trzmiel handed Jadwiga Leśniak – Jankowska the HONORIS GRATIA badge, awarded by the Mayor of Krakow Jacek Majchrowski – in recognition for her activities and initiatives undertaken for the benefit of Krakow, that significantly contribute to its promotion and cultural development. The chairwoman of the Krakow City Council Małgorzata Radwan-Ballada awarded Jadwiga Leśniak – Jankowska with the silver medal of "750th ANNIVERSARY OF THE LOCATION THE CITY OF KRAKOW" on the occasion of her jubilee of artistic and pedagogical work.
In 2012, on the occasion of the jubilee of the theater (20th anniversary), the Mayor of the City of Krakow Jacek Majchrowski handed her the symbolic keys to the gates of the city of Krakow, bearing the sentence of CRACOVIA URBS CELEBERRIMA, with the best wishes for many artistic successes.
In 2017, on the occasion of the theater jubilee (25th anniversary), the Marshal of the Lesser Poland Voivodship Jacek Krupa awarded Jadwiga Leśniak-Jankowska with the POLONIA MINOR award in recognition of her great contribution to shaping the artistic life of Krakow and Lesser Poland, tireless promotion of culture and outstanding social contribution to the region and its inhabitants.
Jadwiga Leśniak – Jankowska is the founder of the ARS CAMERALIS foundation and a member of the Association of the Polish Stage Artists (ZASP).